26 Oct 2020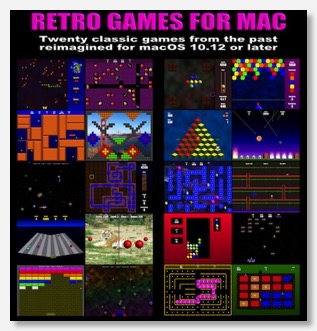 This is a sponsored post, but don't let that turn you off. I made a point of doing the interview as I would any other — and Richard Bannister has some fun stories to tell.
Richard Bannister is best-known for his Mac-native emulator ports of BSNES, Nestopia, Genesis Plus, and Boycott Advance, plus some two-dozen others, which he built and maintained through the 2000s and returned to relatively recently after a long hiatus. But he also has a fantastic game music player called Audio Overload (with Mac and Windows versions) that supports more than 30 console/handheld/computer file formats.
And this year, during a period of unemployment, he decided to flex his creative muscles and make some games. He's up to 20 in all, each inspired by a classic arcade game or early home computer puzzle game — and very often by multiple variants of a particular game — and
he's selling them on the Mac App Store
. In this interview we discuss this
Retro Games for Mac collection
— its inspirations, design, development, cheat codes(!), and future plans — as well as his 90s shareware games and his contributions to the emulator scene.
See full show notes and episode player…