I speak to the creator of Shmuplations.com, a large repository of translated interviews with Japanese game developers, about his approach to doing the translations, his insights on the Japanese games industry, and the highs and lows (and struggles) of running a time-intensive side hustle.


This is the second entry in a new series of interviews I'm running alongside the main show — every month(ish) I'll talk to a different person who's exploring games history, in one way or another, to learn about the many ways people are preserving the games industry's past as well as to further our understanding of how this wonderful medium (and the industry that's built around it) has come to be the way it is now.

See full show notes and episode player…
It's strange to think of a time before jumping was a standard video game action, to be expected whenever and wherever you have control over an individual character. A time before you could hop onto enemies' heads and not die, or swing on ropes, or move back and forth across a vast level — many times wider than the screen.
But these ideas were rare, and just beginning to find their way into video game lexicon, when David Crane came along and with one single game turned them into tropes. With just one game that had begun as a simple tech demo of a running man. One game that would go on to define a console generation, amid 64 consecutive weeks atop the Billboard bestsellers chart and a whopping four million lifetime sales on a gaming system that itself sold 30 million units.
That one game is Pitfall!, or Jungle Runner, as it was called during development, an Indiana Jones-like adventure distilled into the (home console) video game technology of the era.
This is the story of Pitfall!'s creation and its phenomenal legacy, pieced together from myriad sources — interviews, reviews, history articles, promo videos, book chapters, retrospectives, and a 2011 postmortem delivered at the Game Developers' Conference by none other than David Crane himself.
See full show notes and episode player…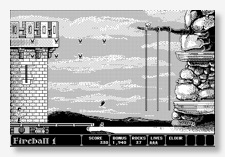 How a quest to put sound in an early Mac game helped usher in a revolution in computer game audio design and production.
Features interviews with tech entrepreneur Charlie Jackson and former Adobe and Microsoft executive Eric Zocher, who together co-founded 1980s software company Silicon Beach Software — a pioneer in creative software tools and desktop publishing, as well as the publisher of several popular games (two of which we cover here: Airborne and the original Mac version of Dark Castle).
See full show notes and episode player…