Indie Spotlight: Richard Bannister (Retro Games for Mac Collection)
Click/tap here to download this episode.
(If you don't see the player above, it means your browser is blocking my podcast host Megaphone. If that's the case you can listen by downloading the mp3, turning off your adblocker, whitelisting all megaphone.com subdomains, or loading it up in your favourite podcast app. I'm sorry about the inconvenience, but there's nothing I can do about it until Megaphone either improves its privacy performance or I switch to a new host — which I'd rather not do just yet.)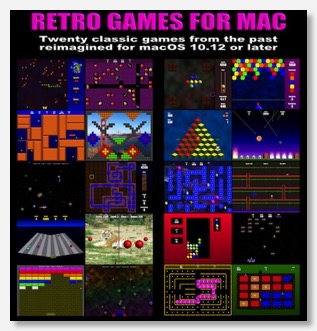 This is a sponsored post, but don't let that turn you off. I made a point of doing the interview as I would any other — and Richard Bannister has some fun stories to tell.
Richard Bannister is best-known for his Mac-native emulator ports of BSNES, Nestopia, Genesis Plus, and Boycott Advance, plus some two-dozen others, which he built and maintained through the 2000s and returned to relatively recently after a long hiatus. But he also has a fantastic game music player called Audio Overload (with Mac and Windows versions) that supports more than 30 console/handheld/computer file formats.
And this year, during a period of unemployment, he decided to flex his creative muscles and make some games. He's up to 20 in all, each inspired by a classic arcade game or early home computer puzzle game — and very often by multiple variants of a particular game — and
he's selling them on the Mac App Store
. He's got his own version of Mr Do — via Amstrad CPC clone Fruity Frank — called
Fascinating Fruit
, and a Snake/Pac-Man hybrid called
Wacky Snake
, plus a Crystal Quest reimagining called
Space Diamonds
and a JezzBall/Barrack clone called
Little Green Balls
that I can personally attest feels just like the original. And many others, available individually or in two discounted bundles.
In this interview we discuss his
Retro Games for Mac collection
— its inspirations, design, development, cheat codes(!), and future plans — as well as his 90s shareware games and his contributions to the emulator scene.
Interview notes:
His Breakout-style game is called Shaded Bricks
It's inspired by Commodore 64 game Crillion
1992 Mac game Diamonds
Fascinating Fruit is based on the arcade game Mr Do
But also on Amstrad CPC game Fruity Frank
cheat codes include "drfauci" to give your character a mask and "fiveaday" to swap fruits and vegetables out for junk food (see below for how they change the appearance)
Ambrosia Software's Pengo clone Bubble Trouble is no longer available, except via abandonware sites
His shareware games included Smashing Windows and Star Chaos
Pang aka Buster Brothers arcade game
Crystal Quest is available on modern systems (Mac, Windows, Xbox 360) thanks to the company co-founded by its creator Patrick Buckland
There was indeed a Game Boy port, though the game was never going to work well with d-pad controls
Richard Bannister's original shareware clone was called Space Debris
His new version is Space Diamonds
You can find some of the games and emulators John Stiles made at the Macintosh Garden
French-territory-only computer, the Thomson MO5
Wacky Snake - Pac-Man/Snake hybrid
You can send RB feedback via the form at bannister.org/email or from inside any of his games
And here's an illustrative example of how Fascinating Fruit looks normally versus when you turn on two of its cheats — the "fiveaday" and "drfauci" codes: