The story of the one of the earliest flight simulator games, Airfight, a favourite among the PLATO community back in 1973, based on an interview with its creator. Airfight was a multiplayer flight combat sim with wireframe graphics and real-time chat, and it was an influence on the first home computer flight simulator, subLOGIC's fittingly-named 1980 game Flight Simulator for the Apple II and TRS-80.
See full show notes and episode player…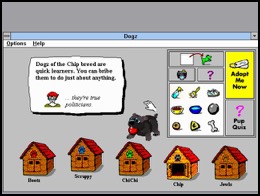 Frustrated by the unjustified furore that surrounded his tame interactive movie game, designer Rob Fulop turned to Santa for help. And with a clever business model he and his team at PF Magic invented a new kind of game, one in which you adopt and care for a digital animal — a virtual dog or cat, or something more exotic, with a personality and needs and quirks not unlike a real one.
See full show notes and episode player…