Nintendo Power founding editor and former Nintendo of America marketing executive Gail Tilden remembers her beginnings at the company — before the NES, before Nintendo Power, and even before desktop publishing.
See full show notes and episode player…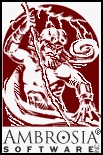 While I'm away on my honeymoon, here's my complete talk from PAX Australia 2019, on the rise and fall of legendary shareware publisher Ambrosia Software.
The synopsis:
For Mac gamers in the 90s, the people of Ambrosia Software were rockstars. Heroes. And with brilliant games like Maelstrom, Escape Velocity, Harry the Handsome Executive, Apeiron, and more, plus a company newsletter that spoke directly to the fans, they could do no wrong. In light of Ambrosia's recent closure (finally!), Secret History of Mac Gaming author Richard Moss recounts the studio's high and lowpoints and tells the stories behind its best games.
See full show notes and episode player…
On the 90s girl games movement, and its assault on the status quo of the video game market, featuring Girl Games Inc founder and former filmmaker Laura Groppe.
See full show notes and episode player…