19 - Premier Manager
Become a Patron!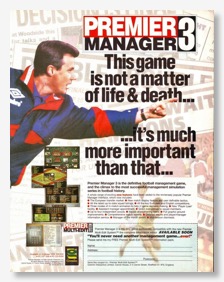 On the rise and fall of the Premier Manager series of soccer management games — a former PC gaming juggernaut that lost its way amidst a shuffle of developers and publishers — and the part it played in the broader consolidation and homogenisation of sports games (of all kinds) over the past 20 years or so.
All music and sound effects in this episode were composed and performed by me, except for the bits that came from the Premier Manager games (the football commentary clips and a couple of songs). And the clip from Highlander.
If you'd like to try one of the Premier Manager games, the easiest option is to use
the in-browser emulators on Archive.org
— which has the DOS, Amiga, and Sega Mega Drive versions of the earlier titles all playable. The early Championship Manager games — which eventually evolved into today's monster Football Manager series — are also playable on there, in DOS and Amiga formats.
Remember to share this episode on social media and to leave a review of the show on Apple Podcasts or Google Podcasts or whatever podcasting app you prefer. And, if you can afford it, please consider
subscribing on Patreon
to get some bonus content in exchange for the wonderful feeling that you're helping me make this show more sustainable.
(Partial) Transcript
Today, in the football management genre, there's really only one game that matters, one game that commands all of the attention. Sports Interactive's Football Manager franchise rules the roost with a hardcore, ridiculously in-depth simulation of all the systems and processes of managing a professional soccer team from any of 100-plus divisions across more than 50 leagues around the world.
It covers not just match tactics and transfers, which alone possess a massive amount of systemic complexity in the game, for those willing to dive all the way into the simulation, but also micro-managing individual player and staff relationships, training schedules, team talks, media handling, scouting, youth and reserve teams, and loads more, with options to offload some of this stuff to a computer-controlled assistant manager — if you're willing to trust them.
If this all sounds kind of bewildering, or massively time-consuming, it is. And it's precisely why there are still people playing older versions of the game, from 20-odd years ago, sometimes with their own custom data updates. But that's a story for another time.
Football Manager, with its desktop and mildly-streamlined tablet and mobile flavours, and its millions of football fans, has become the standard bearer — its genre's equivalent to NBA2k or Grand Theft Auto or Forza; the game against which everything else is compared and measured, with an enormous database of tens of thousands of footballers from around the world that's compiled by a massive global network of researchers and scouts. Professional clubs and managers even use it to devise new tactics and find potential new signings.
And aside from a handful of free-to-play-with-microtransactions alternatives, Football Manager is pretty much the only option for budding virtual managers.
But that's now.
If you roll back the clock to the early 1990s, or even to the late 90s, you'll find a very different picture. Back then the genre looked much less settled...
(For more you'll have to either just listen to the episode or sign up as a supporter on Patreon — everyone who pledges $3 or more a month gets access to full episode transcripts [amongst other things].)
***
The Life & Times of Video Games on the Web and social media
You can make a donation to help cover running costs and allow me to rely less on freelance income via
My book,
The Secret History of Mac Gaming
, is available in bookstores in the UK and Australia, as well as online from the likes of Book Depository and Amazon. See the
official website
for more info.
Can't afford to give me money? Consider listening via the RadioPublic app for Android or iOS. It's free. And if you enable analytics then I get paid a couple of cents each time you listen to my show. Head to
https://radiopublic.com/the-life-times-of-video-games-G1V9N1
for more info.