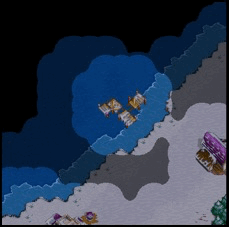 In war, no information is complete. No intelligence absolute. No view of the enemy unobstructed. There's no such thing as perfect knowledge. It is a realm of uncertainty, where decisions are made on flawed and often outdated data — as though looking through a fog.
Hence the term, the fog of war, a military phrase with origins in the musings of a 19th century Prussian general called Carl von Clausewitz. A phrase that's since found its way into video game lexicon, and video game design, as we explore here. (Featuring interview clips with former Blizzard lead programmer Patrick Wyatt about the fog of war in Warcraft II and StarCraft.)
See full show notes and episode player…
Before something like the Xbox could ever hope to exist, Microsoft first needed to learn how to be a successful games publisher on the PC. This is the story — or part of it — of how Microsoft got games, featuring input from four key Microsoft Game Studios people — Ed Fries, Stuart Moulder, Ed Ventura, Jon Kimmich — and Age of Empires co-creator Rick Goodman.
See full show notes and episode player…