17 - Super Mario Kart
Click/tap here to download this episode.
(If you don't see the player above, it means your browser is blocking my podcast host Megaphone. If that's the case you can listen by downloading the mp3, turning off your adblocker, whitelisting all megaphone.com subdomains, or loading it up in your favourite podcast app. I'm sorry about the inconvenience, but there's nothing I can do about it until Megaphone either improves its privacy performance or I switch to a new host — which I'd rather not do just yet.)
Become a Patron!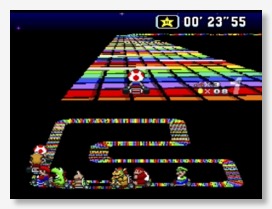 How Nintendo and its mascot created a genre, and a combat-racing franchise heavyweight, and in the process gave us a masterclass in game balance, with the best-selling 1992 Super Nintendo game Super Mario Kart.
All music and sound effects in this episode were composed and performed by me,
except
for the bits that I lifted out of Super Mario Kart.

If you enjoyed this episode, you might like to consider listening to the previous entry this season, on
Sega Rally Championship
. Or for other development-focused stories I've done, consider the episodes on
Lode Runner
,
the Tomb Raider grid
(and
part 2
),
Midwinter
,
Dogz
,
FIFA 3DO
,
colour cycling/palette shifting
, and
Airfight
— some of which feature interviews with the creators.

The Life & Times of Video Games on the Web and social media

You can make a donation to help cover running costs and allow me to rely less on freelance income via

My book,
The Secret History of Mac Gaming
, is available in bookstores in the UK and Australia, as well as online from the likes of Book Depository and Amazon. See the
official website
for more info.

Can't afford to give me money? Consider listening via the RadioPublic app for Android or iOS. It's free. And if you enable analytics then I get paid a couple of cents each time you listen to my show. Head to
RadioPublic.com
for more info.
Support The Life & Times of Video Games