PAX Panel: Shareware Downunder

I was on a panel about shareware games at PAX Australia in October, with
Halloween Harry
/
Alien Carnage
co-creator John Passfield, indie developer and bookshop owner Terry Burdak, and ACMI games curator Arieh Offman. This is the full audio from that panel.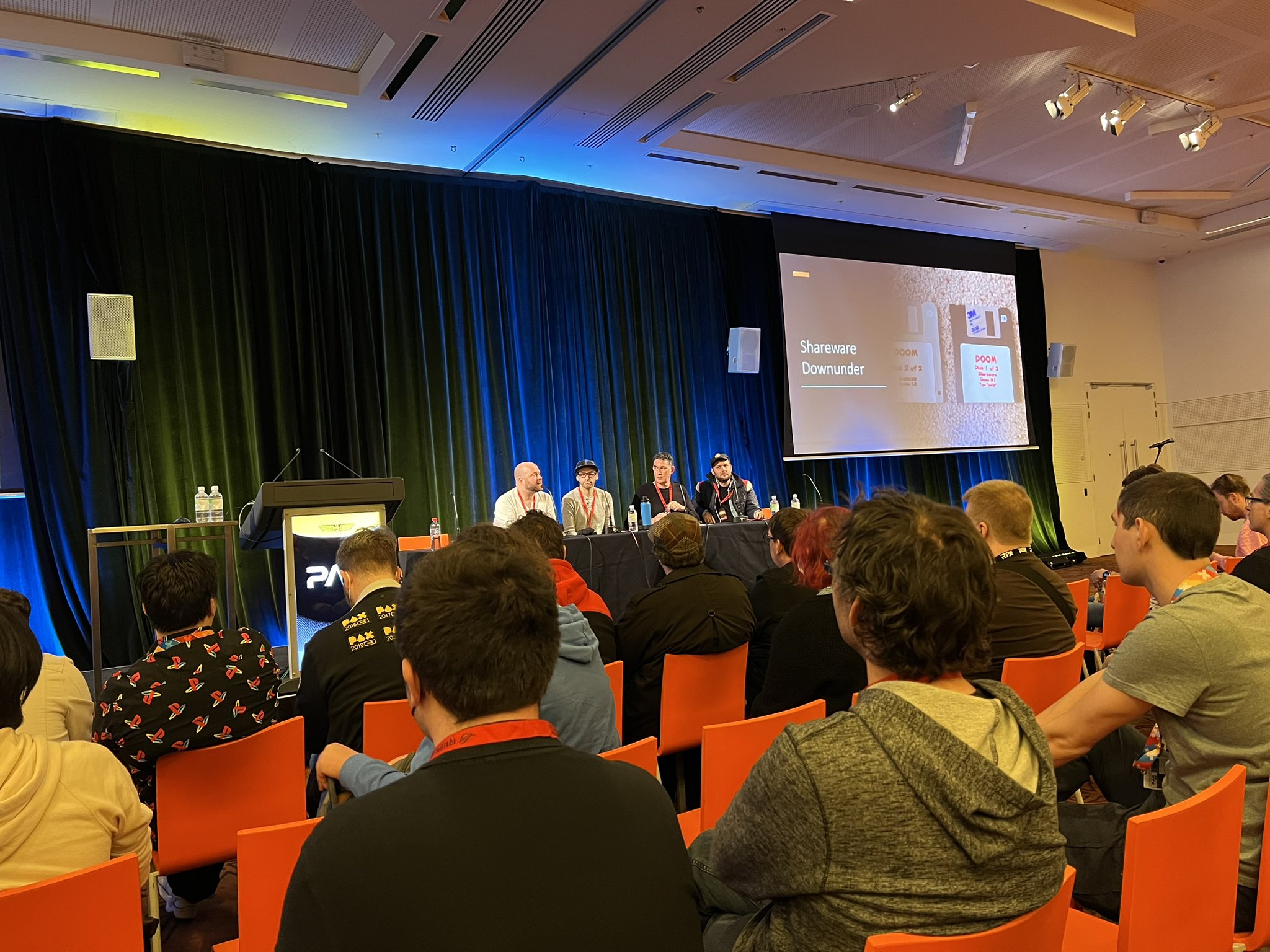 Photo by Rob Caporetto
You can find a PDF of my slides from the panel at
this Dropbox link
. I've also got John's slides
in PowerPoint form
at (so you can play the videos yourself) and Terry's
in another PDF
.
As for where to find us and the things we talked about:

My new book,

Shareware Heroes: The renegades who redefined gaming at the dawn of the Internet

,

has a website here

You can find out more about John's past work at

the Play It Again website

and

his personal site

.

Terry's games studio and shop are located in Melbourne's inner north. You can check out their games and buy some things at

https://www.paperhousegames.com/

If you live in or are ever visiting Melbourne, be sure to visit

ACMI

and stop by the free

Story of the Moving Image exhibition

.

And you can find us all on social media. I'm @MossRC on Twitter and @mossrc@social.mossrc.me on the Fediverse (Mastodon et al); John is @JohnPassfield on Twitter and @johnpassfield@mastodon.gamedev.place on the Fediverse; Terry is @PaperHouseGames on Twitter and Instagram; and Arieh is @OffmanArieh.

Special thanks to Helen Stuckey for conceiving and organising the panel
And here's the original panel description:

Remembering a time when the shareware demo ruled PC gaming, this panel discusses the impact and legacy of shareware on the local gaming landscape. Featuring author of "Shareware Heroes: The renegades who redefined gaming at the dawn of the Internet" Richard Moss, game designer John Passfield, whose Apogee-published game Halloween Harry / Alien Carnage (1993) topped the charts just before shareware legends id Software made it irrelevant with Doom, and shareware devotee in their youth, indie developer Terry Burdak (Paper House). Panel chaired by Arieh Offman, ACMI's Curator of Videogames for Play it Again: Preserving Australian videogame history of the 1990s project.