27 - Links
Become a Patron!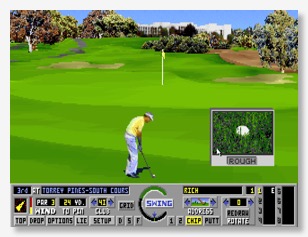 In 1990, in a bid to move ahead of their rivals, Access Software reinvented virtual golf. Their game Links set the template for golf games over the next decade, with a technological
tour de force
, and along the way it dominated bestselling PC games charts month after month, year after year. Until suddenly it didn't.
This is the story of Links and the huge shadow it cast over its genre.
(If you don't see the player above, it means your browser is blocking my podcast host Megaphone. If that's the case you can listen by downloading the mp3, turning off your adblocker, whitelisting all megaphone.com subdomains, or loading it up in your favourite podcast app. I'm sorry about the inconvenience, but there's nothing I can do about it until Megaphone either improves its privacy performance or I switch to a new host — which I'd rather not do just yet.)
If you'd like to play the original Links for yourself and would like to see it the way people saw it at the time, don't forget to turn down the CPU speed in DOSBox — a 386 was still a high-end machine when it came out, and so you want to go somewhat slower than that.
EA got out of golf games after Rory McIlroy PGA Tour in 2015, but 2K picked up the PGA Tour licence this year and has taken over publishing duties for former EA Sports contractors HB Studios' golf series The Golf Club — now renamed PGA Tour 2K. Their first game together, PGA Tour 2K21, just came out on Switch, Xbox One, and PS4 (disclosure: those are Amazon affiliate links).
Thanks as always to my supporters on Patreon — especially my $10+ backers
Seth Robinson, Wade Tregaskis, Rob Eberhardt, Vivek Mohan, Simon Moss, and Eric Zocher.
If you'd like to become a supporter, for as little as $1 a month, head to
my Patreon page
and sign up. Or for one-off donations you can use
paypal.me/mossrc
.
Please remember to tell other people about the show, and to leave a review by following the links at
ratethispodcast.com/ltvg
.
I'm currently writing a new book, Shareware Heroes: Independent Games at the Dawn of the Internet. You can learn more and/or pre-order your copy
from Unbound
.
---
(Partial) Transcript
[Welcome to the Life and Times of Video Games, an audio series about video games and the video game industry, as they were in the past and how they came to be the way they are today. I'm Richard Moss, and this is episode 27, Links, or the story of a game that shaped a genre, and the shadow it still casts.]
We'll get going in just a moment.
*pause for pre-roll ad/cross-promo slot*

***
You'd be mad to do it nowadays, to re-name your hit franchise — not to cash in on a celebrity endorsement, but just to change the name. To throw out all the brand recognition and cachet and search engine optimisation that you've built up over years of hard work, and to start again. For no other reason than that the old name was less descriptive than the new name; the old name somehow less efficient in communicating its message to a small segment of the population that knows how to understand that message in the first place.
Because your old name says "I'm probably a sports game" and your new name, depending on who you say it to, manages to say both "I'm probably not for you, if you don't know what this means" and "I'm a golf simulation" — both at the same time.
But some 30 years before today, long before search engine optimisation had entered marketing lexicon, a company called Access Software did just that. They replaced their best-selling, critically-acclaimed multi-platform computer golf series Leader Board with an entirely new franchise called Links.
They gambled — successfully, I might add — on a change from their working title, bandied around to industry insiders and members of the press, of World Class Leader Board: VGA. To become 'Links', a name drawn from a popular style of golf course, revered for its undulating, uneven surface and often-unforgiving conditions — where off the well-tamed short-cropped grass of the fairway you find thick rough (or longer-grass, for the total golf newbies) and deep bunkers (or sand traps, as they're also called).
Links golf is widely considered the purest, best, and most challenging form of golf. And as links was to golf, Access believed, their game Links: The Challenge of Golf would be to virtual golf.
***
Vance Cook: I was one of those kids that was learning to program in like junior high and high school and wanted to create and publish a video game when I was really, really young. And so I started learning languages and finally got into programming.
This is Vance Cook, the instigator, I suppose you could say, of the first Links game.
Vance Cook: OK, I am Vance Cook, one of the developers of the original Links and Links 386 Pro products, later went on to make a series of golf games after I left, including PGA Championship Golf and the Tiger Woods PC, Wii, Xbox 360 series.
But before he did any of that, Vance was just some kid with big ambitions.
Vance Cook: I was making a game that I wanted to publish. So I showed it to them and asked them if they wanted to publish it. I called it Vikings of Svalbard, and it was kind of a global strategic ship battle game and kind of based out of, you know, that Viking island of Svalbard and branched out of there.

It wasn't finished. It wasn't anywhere close to being finished. And it wasn't really good enough yet. But they offered me a job on the spot. And so I thought about it for a few days and then I accepted.

Never did publish it. Thankfully, the world avoided that bit of garbage.
Rather than pay him to continue creating his Viking strategy game, Access added Vance to their team of in-house porters. His job was to write conversions of their games for Apple platforms — the Apple II and the Macintosh.
Access had a thriving little studio by that point. They'd earned their fame in the games industry a few years earlier with the hit action-heavy wargames Beach-Head and Raid over Moscow, then in 1986 co-founder Bruce Carver and his brother Roger had branched the company out into sport with 10-pin bowling game 10th Frame and golf game Leader Board — the latter of which was also a hit.
(For more, including the tale of how Links introduced 3D graphics to the golf game genre and how Microsoft managed to lose Links' 65% market share of the golf genre, you'll have to either just listen to the episode or sign up as a supporter
on Patreon
— everyone who pledges $3 or more a month gets access to full episode transcripts [amongst other things].)