26 - The Nostalgia Box
Become a Patron!
I go inside Australia's only permanent video game console museum and find that what makes it special is more than just the size of its collection — or the fact that it exists.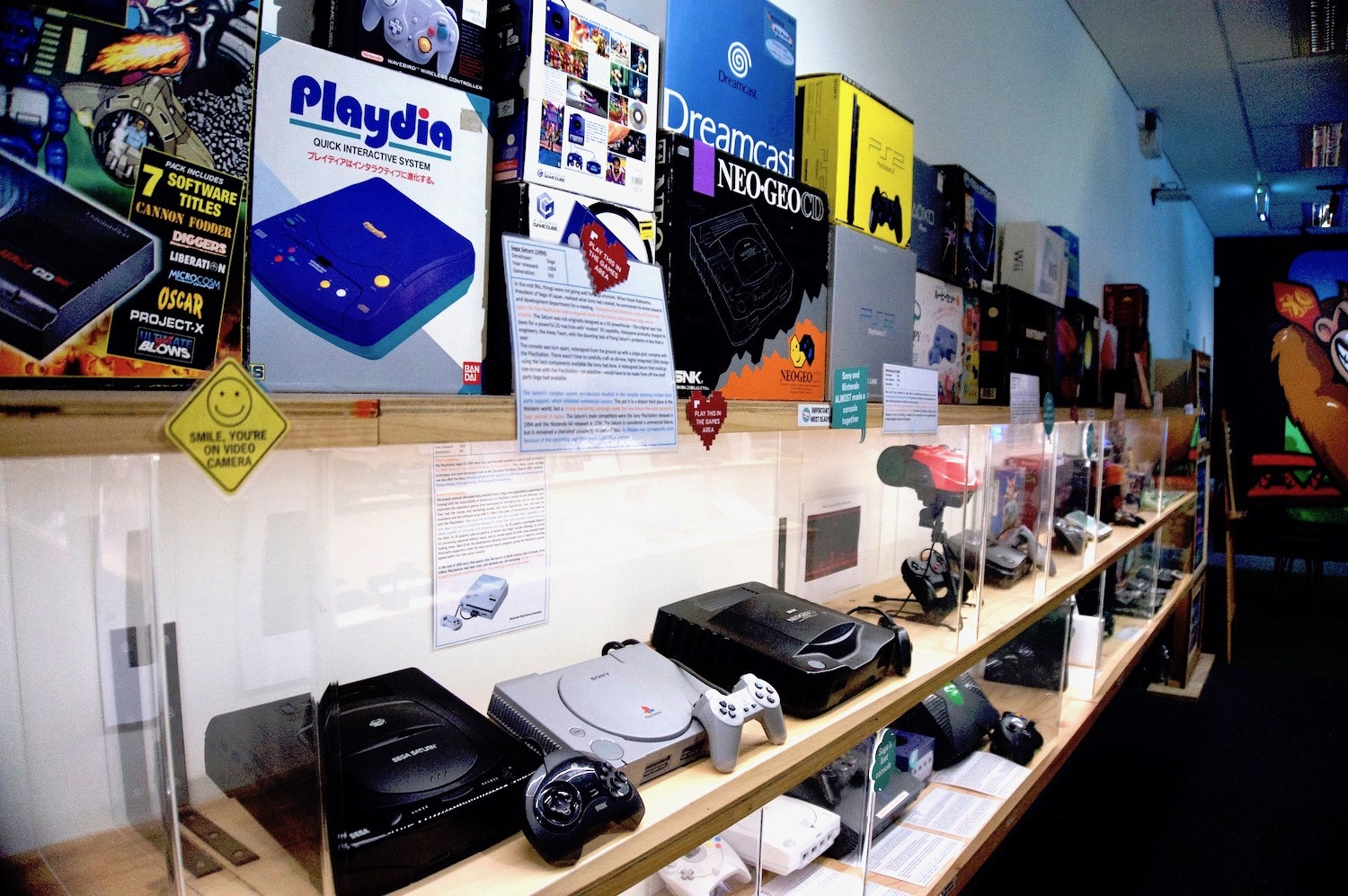 Links
To support my work, so that I can uncover more untold stories from video game history, you can make a donation via
paypal.me/mossrc
or
subscribe to my Patreon
. Learn more at
lifeandtimes.games/donate
(I also accept
commissions
, if you're after something specific.)
---
Partial Transcript
[Welcome to the Life and Times of Video Games, an audio series about video games and the video game industry, as they were in the past and how they came to be the way they are today. I'm Richard Moss, and this is episode 26, The Nostalgia Box.]
***
I'm doing something a bit different with this episode. The Life and Times of Video Games is normally about history, about the past and the ways in which it shaped the present. And this story certainly does still contain and concern those things, but the story itself is centred in the here and now. And as such, to fit that different emphasis, I'm mixing up the format a bit — just this once. If you've listened to my on-hiatus other show, Ludiphilia, you'll know what to expect. If not…well, sit back and enjoy the ride.
***
Just stepping inside evokes memories of a bygone era. Memories you may have lived through, memories you may have absorbed from your parents or your siblings, or watching TV and YouTube. Or from the games you played when you were a kid.
Those games may not have been these games, but no matter. This is a place of collective memory. A place you go to remember interactive, electronic entertainment — both as it was and as it is memorialised.
There are the things we all know, even if just by name or reputation, like the Nintendo Entertainment System and Sony PlayStation, and Pong. The things we might have read about and accepted as canon, oversimplified falsehoods as they so typically are, like Atari's role in the formation of the industry or the great videogame crash of 1983 — when Atari fell apart. Or the two or three consoles from each generation that most people believe were the only consoles from that generation.
And there are the things we've seen in fever dreams, the impossible imaginings that are somehow real — the Casio Loopy and its built-in sticker-printing capabilities, the Chinese-only Nintendo iQue Player — an officially-licensed attempt to stem piracy through what was essentially a Nintendo 64 inside a gigantic controller — the Action Max video cassette system, and the bizarrely-pyramidal Coleco Telstar Arcade — with triangular cartridges and each of its triangular console faces sporting one of three control schemes: steering wheel, light gun, and a pair of dials.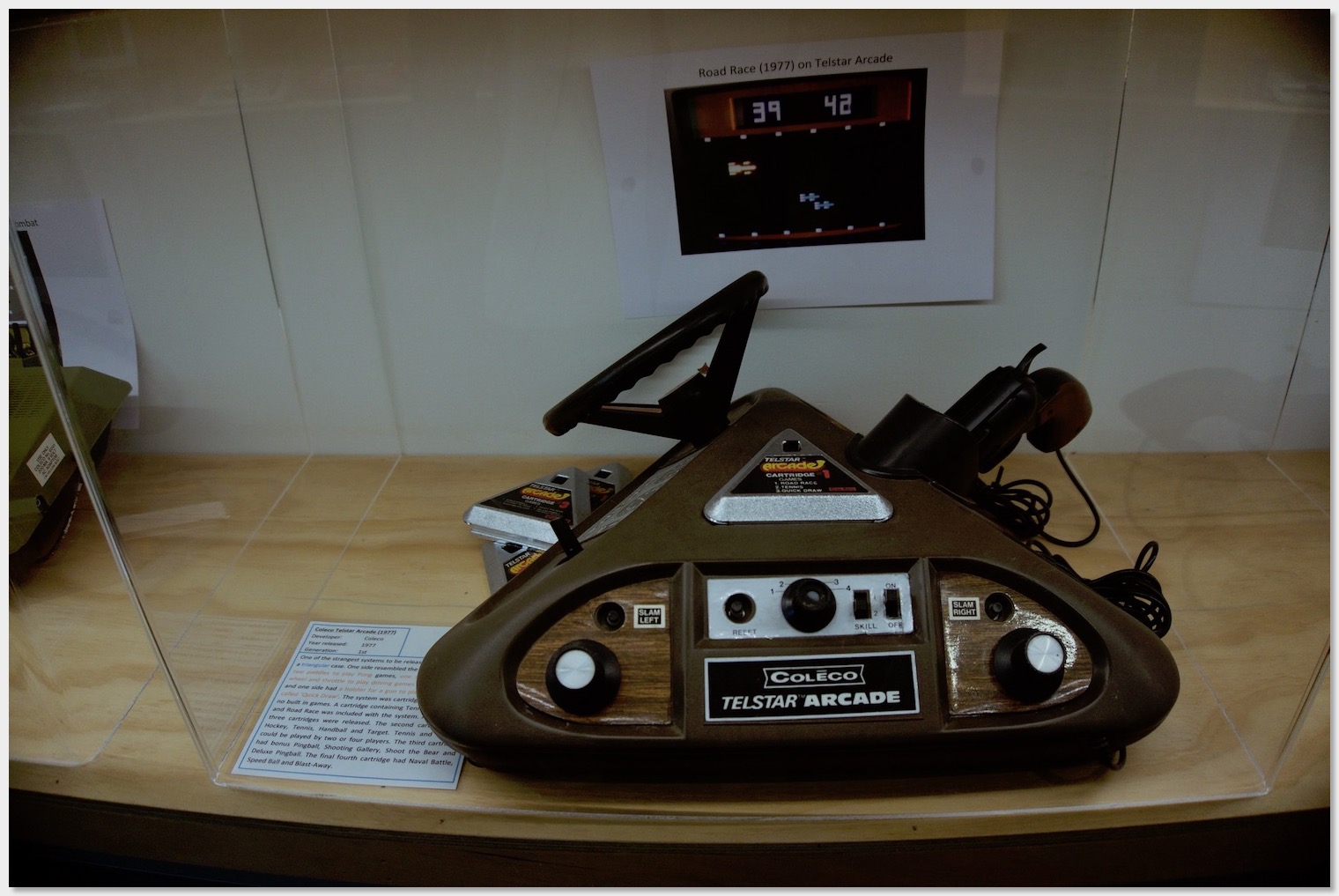 They're all here, all that and more, side by side, row by row, year by year, system by system and card by card and box by box, systematically arranged, a life-size timeline of video game console hardware. An industry of boxes boxed up neatly behind glass in a place that calls itself The Nostalgia Box.
It's a museum of video games, a museum of dreams and memories. A museum that proudly displays the obscure besides the renowned, the forgotten besides the beloved — each celebrated as an artefact of gaming history, and often displayed with a well-researched (albeit brief) description for a touch of trivia and context.
And one fine afternoon, at the end of February in this year that we'll never forget, I was there. Remembering things I knew, and things I'd just learnt I didn't.
***
It's an impressive collection, especially when you consider its relative newness. Just five years on from its opening, the collection already includes over 100 unique consoles, ranging from the many Pong-based systems of the 1970s through to the latest generation — and everything in between. And most of it was cobbled together by one woman, accountant-turned-entrepreneur-and-museum-curator-turned-former-Nostalgia-Box-owner Jessie Yeoh. Here's a short clip of Jessie talking about the museum to the WAtoday online newspaper back in 2015.
[CLIP OF JESSIE TALKING TO WATODAY]
Jessie Yeoh: I guess people these days, they don't think a lot about things like how this was created or — especially kids these days. They're always on their iPads playing games, but they never think about how it started or who started it.
Jessie created The Nostalgia Box, Australia's first permanent video game console museum, tucked away in the inner-city Perth suburb of Northbridge — a trendy area known for its vibrant nightlife, shopping, and hidden little eateries. And she did it largely by scouring eBay and local markets and buying up gear overseas — sometimes during her own travels, sometimes via her friends. And by leaning on the generosity of the community, from the kind souls who donated their own games and consoles so that they may be shared with museum visitors.
Jessie sold the business to a fellow named David last year, a few months before my late-February visit, but I got to talk to one of her key recruits — a Dutch expat called Liz Groot, who handles much of the day-to-day operation of both the museum and its adjoining gift shop and freeplay area.
Here's Liz talking about her reaction to the collection when she joined the team. Note that you may hear various people (and one young child in particular) screaming or talking in the background during this and several of the other interview clips I'll be sharing later.
Liz Groot: I'm a collector myself at home, but a lot of the things here, when I start working here, is like 'what is all this?!' There's so much from the 80s and 70s. I was just like, 'There was this much?!' I knew about Atari. I knew about like Nintendo, Mattel, and Intellivision, stuff like that, and none of the other, you know, really strange-looking consoles and stuff that we have in there. And it's just insane to see all that kind of stuff.
Richard Moss: And there's amazing stuff like the VHS console.
Liz Groot: Yeah. Action Max. Also the Casio Loopy is one of my favourite ones that I discovered here, which was, you know, it was directed to girls, but it created stickers for like a little sticker booklet. And I was just like if I was a kid back then, I would have begged my parents to have something that. That's just so cool in my eyes. It would still be cool, to be honest, to be brought out nowadays. You know, with a built-in printer. I'm like, yes! I'll print my own stickers for a manga that I'm creating myself. This is freaking cool!
Richard Moss: Yeah, some people would be way into that. There's still people who like to use the Gameboy printer.
Liz Groot: Yes. I've got some cool plans for this place, using a Game Boy printer. Like, wouldn't it be like the coolest token ever? Oh, I visited The Nostalgia Box, with a picture of myself, you know, from the Game Boy printer, freshly taken there. And it's like, that would be awesome.
Richard Moss: Yeah, that would be awesome. So how did you get involved in this place?
Liz Groot: So I migrated to here myself two years ago. I came here for my partner, who lives here in Australia and is Australian. And he actually found a volunteer job here. For the school holidays, they needed people. And I have a teaching degree. So I was like, why not? And it was a gaming museum. So how cool is that?

When I took the volunteering job, and when they hired me for that job, they said that it may turn into an actual paid job. And I was like, you know, it's whatever. As long as I could spend my time here and, you know, be surrounded by video games and show kids how to do stuff, that would be really, really cool. So I started doing that about — now, I think it was a year ago. I officially started working here in April last year.

And yeah, I've been basically here in an official capacity, running the new museum, the gift shop, but also explaining and maintaining the collection here.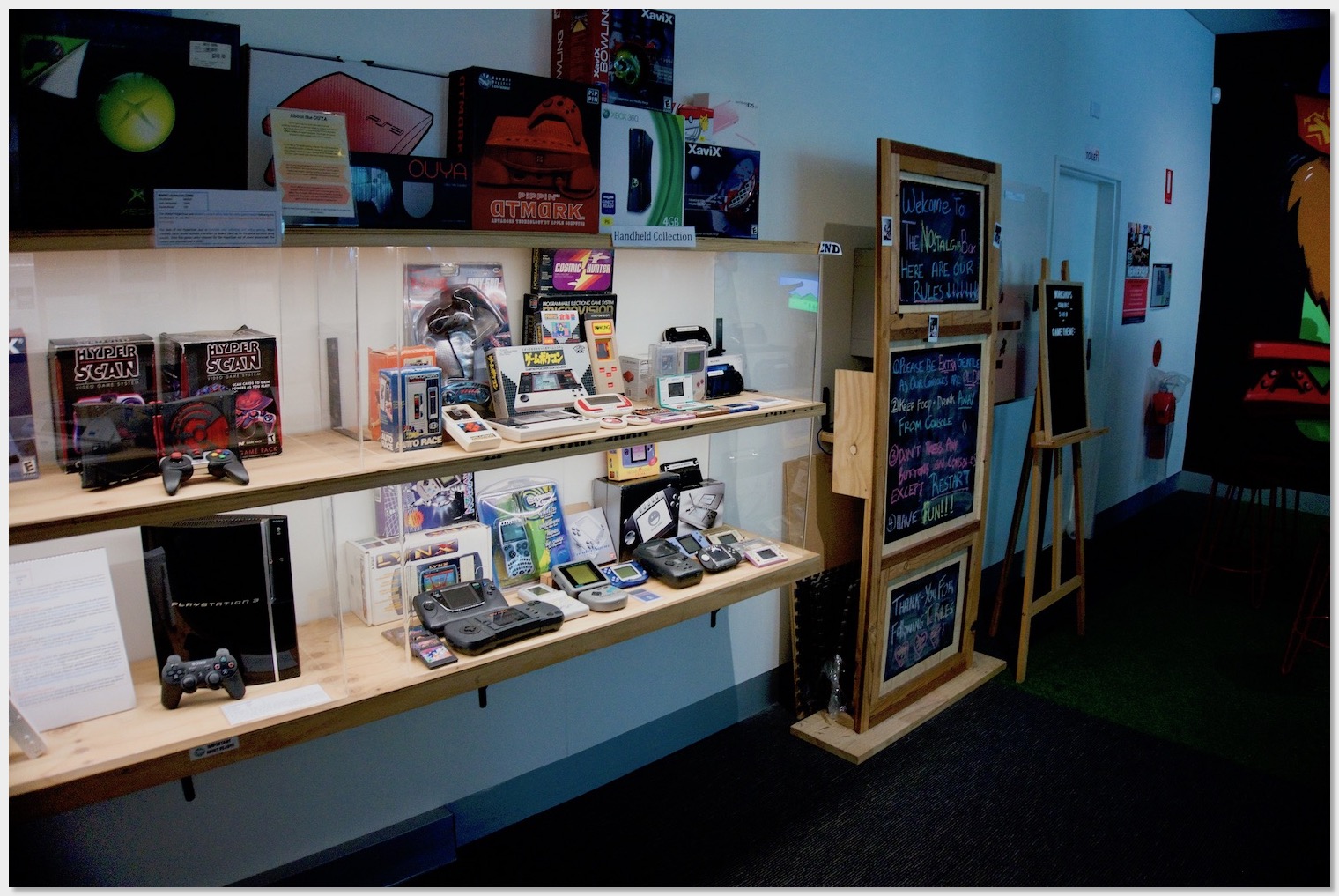 As impressive as the collection is at The Nostalgia Box, there's one big blind spot that's becoming increasingly apparent as the museum matures. You see, it's a museum of video games, but more specifically it's a museum of video game consoles — plus a modest collection of games and peripherals for each of its many consoles. Which means no computers or computer games, despite their significance to the history of the games industry and their contributions to the evolution of console gaming.
Their absence is in part a legacy of the museum's original owner, Jessie Yeoh, the self-confessed Nintendo fangirl who left her job as an accountant to start the business in 2015.
It was, for her, a place to recreate the memories she held so dear of playing console games when she was growing up. A place to share those memories with other adults, and with kids whose gaming knowledge extends no further back than the iPhone and the Xbox 360.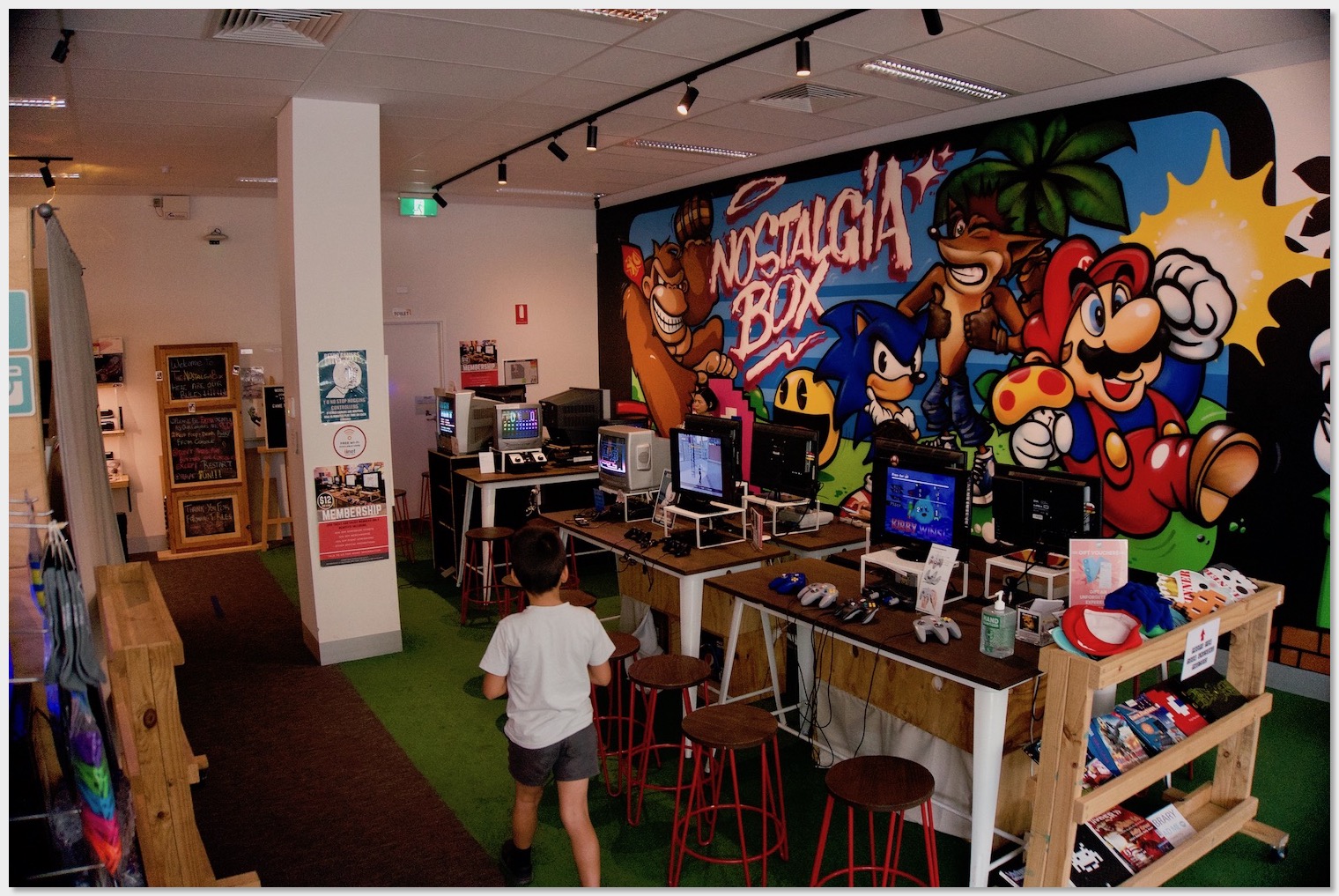 And such it has stayed, with this singular focus serving as both a blessing and a curse — a blessing in that it affords this small museum a near-exhaustiveness in exhibiting the history of console and handheld videogame hardware, as well as an easy sell-through to the nostalgic 20 and 30-somethings and games-loving kids that form so much of the museum's business, but a curse in that it paints them into a corner, forced to use a handful of information-dump plaques that talk of the adjacent growth of computer gaming in a place that otherwise does so well to illustrate the chaotic evolution of the industry through an exhibition of its material objects.
Liz is painfully aware of this shortcoming, but, in fairness, there's not much they can do about it.
Richard Moss: It'd make things much more complicated, but it would really cool if one day there could be some computer games here too.
Liz Groot: It would. We are expanding very soon. So we might dabble a tiny bit into like DOS gaming and stuff like that. Set up old an old Windows 98 or a Commodore 64. We do want to do something like that. But since we're so focused on console gaming, alone, to bring PC gaming into the whole — we'd need the size of the WA Museum to properly display like everything behind actual video game history. So in a sense we're lucky that it's only console gaming, but it does feel like we're sometimes missing out on some information or some, let's say, holes in history on how things ended up the way they were.
***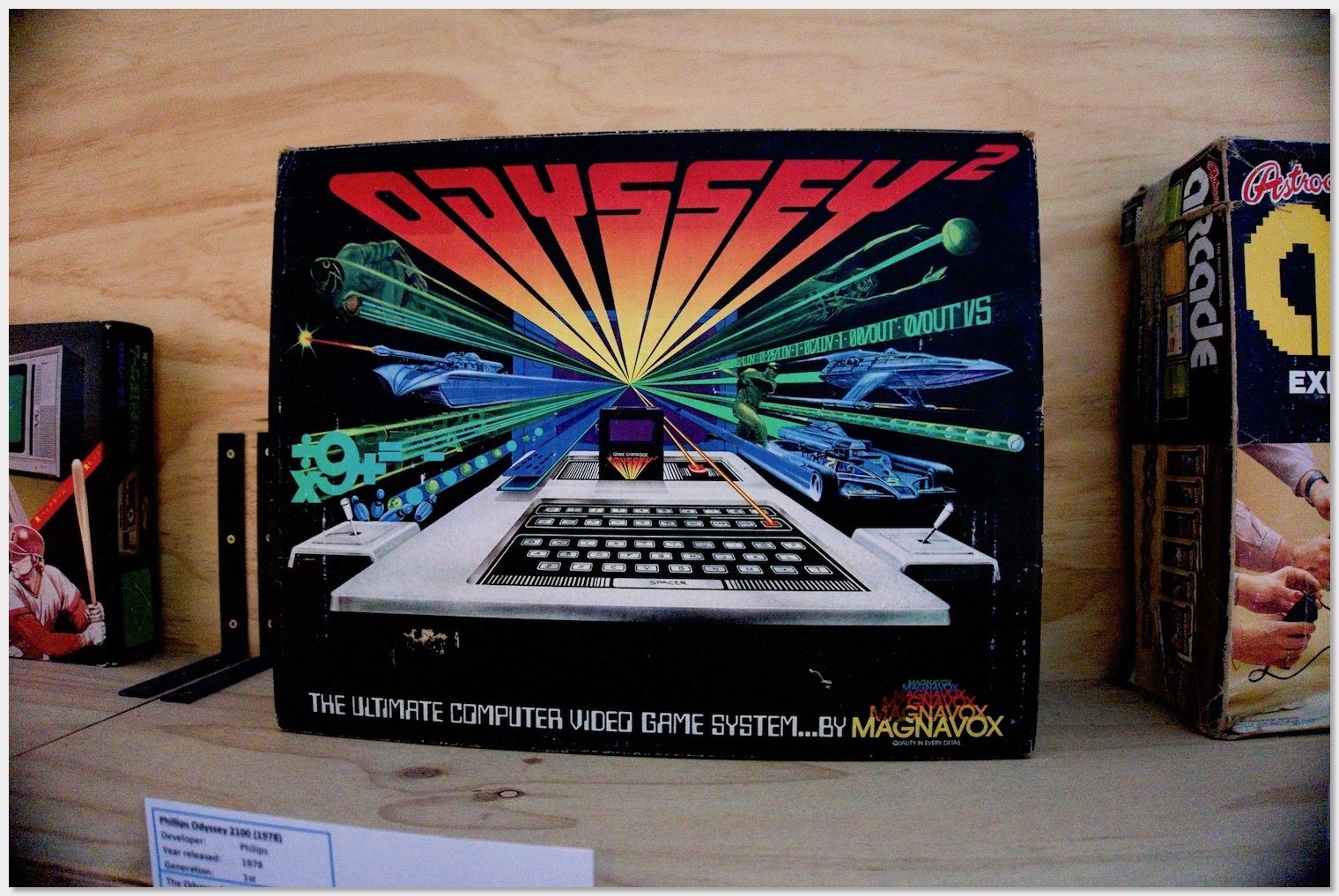 Both when I was there at the museum, and months later when I revisited my photos from the trip, I found myself drawn especially to the boxes that The Nostalgia Box includes in its museum displays. The physical packaging. The cardboard eye candy that sat on retail shelves and beckoned shoppers to buy.
(For more, including stories of bootleg consoles, differences in how people respond to the collection, and how COVID-19 has impacted on the museum's business, you'll have to either just listen to the episode or sign up as a supporter
on Patreon
— everyone who pledges $3 or more a month gets access to full episode transcripts [amongst other things].)