The Tomb Raider grid (remastered)
Click/tap here to download this episode.
To celebrate the 25th birthday of my favourite game franchise, I thought I'd pull out the old Tomb Raider grid episodes from Season 1 and merge them into one. I also put some time into cleaning up the audio, though it'll still sound rough compared to newer episodes — given the lower-fidelity recordings I was using then. Here's the original episode description: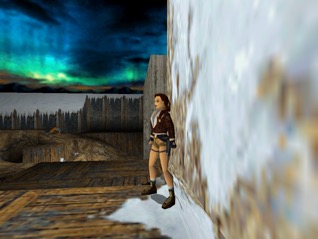 Every aspect of the original Core Design Tomb Raider series (and by extension the franchise's success post-Core) comes back to the grid that lies beneath it — the majority of the puzzles; the platforming; the cavernous chambers and ruins and outdoor areas that provide a sense of isolation, of solitude and discovery; and Lara Croft's iconic acrobatic movement style. And yet it never would have happened if not for one pragmatic choice made by a programmer early in the game's development.
This is the story of how that came to be, and how it made Tomb Raider…well,
Tomb Raider
, based on interviews with Heather Stevens (née Gibson) and Gavin Rummery as well as my past work covering Tomb Raider's history as a freelancer. The second part, which was originally a separate release, also includes discussion of the place that such a grid system has — or might have — in game design today.
Become a Patron!
---
Thank you to my Patreon supporters for making this episode possible — especially my producer-level backers Carey Clanton, Wade Tregaskis, Seth Robinson, Rob Eberhardt, Simon Moss, Scott Grant, Vivek Mohan, and Joel Webber.
To support my work, so that I can uncover more untold stories from video game history, you can make a donation via
paypal.me/mossrc
or subscribe to
my Patreon
.
My first book,
The Secret History of Mac Gaming
, is getting republished in October 2021 (this month!) by Bitmap Books in an "Expanded Edition", featuring a revised layout and design, more images, additional written content, and new sections including a timeline and icon gallery. Head to
Bitmap's product page
for more details.
My second book, meanwhile,
Shareware Heroes: Independent Games at the Dawn of the Internet
, has just been copyedited and will soon be going through design and typesetting phases. It'll be out around Q2 2022, but you can preorder
from Unbound
.